Affiliate Master Course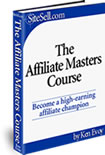 Name: Affiliate Master Course
Author: Ken Envoy
Ebook URL: http://aff-masters.sitesell.com/
Company Name: SiteSell.com
Version: 4
Overview: The Affiliate Masters Course has been said to be, "the best info on succeeding as an affiliate". It is one of the first products to introduce many of the concepts that are still used in marketing today. The Affiliate Masters Course has come up with concepts such as,
*key word brainstorming
*niche identification
*theme based content sites
as well as many others which place the Affiliate Masters Course at the top of the list for new affiliate marketers.
Quotes from actual readers:
"I don't know of any report anywhere which does a better job of explaining how to succeed in affiliate marketing."
- -Affiliate Authority
"The Affiliate Masters Course is the best free resource on the net. Better than many sources you have to pay for, the PDF document is worth downloading and costs you nothing."
- - actual Affiliate Masters Course user
The Affiliate Masters Course is a great way for developing basic affiliate marketing knowledge and building sites that get noticed by search engines and customers. The best part of all is, it is absolutely free! Grab your copy here!






Click here to return to Affiliate Tools

Click here to review the Affiliate Master Course