Click2Sell:
A Better Version of Clickbank?
The popularity of ClickBank has naturally made spinoffs, and this latest entrant, Click2Sell is just that. While it is based on CB, our new competitor has a different and better Marketplace and Affiliate network than its original.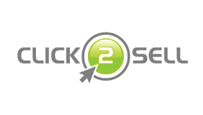 For starters, it allows more than digital products including physical as well as digital products and subscriptions. There is no set-up fee and managers can track affiliate activities and interact with their affiliates.
Some of the features include:
- The ability to sell downloadable digital products and subscriptions
- A variety of payment options even direct credit card payments from customers. It supports Paypal, Authorize.net, Worldpay and Google Checkout. Moneybookers is on the way and will soon be another integrated payment option.
- Funds received go directly into either merchants' Paypal, Authorize, Google Checkout or Worldpay accounts
- Affiliate/Merchant interaction
- Up to 95% sales commissions with completely free accounts
- Merchant rating system based on integrity and payment schedule of merchant
- Six month instead of 30 day expiration on cookies.
- Carries its own Affiliate program paying 30% commission from referred member's fees as long as they remain active.
- Payments can be received either through Moneybookers or Paypal accounts
Merchants will like some of the options offered:
- No setup fee where Clickbank charges $49.95 to setup shop.
- No product or sales page approval or holding period.
- Any price can be set for products!
- Convenient affiliate payment system that is user-friendly and takes only a few clicks to utilize
- Mass affiliate payments function. It can all be done from the same merchant area. There is no need to login to Paypal.
- Merchants can immediately ban unwanted affiliates and have affiliates approved either manually or automatically.
- Merchant can make promotional tools available to affiliates through this system.
- Countries can be chosen or excluded for sales.
- Automatic produce increases and decreases can be set up.
- Encrypted product download pages with customized pre-made affiliate pages and product checkout pages.
- Merchants maintain 100% control over products and refunds.

When merchant's affiliates are analyzing their productivity and sales, Click2Sell has superior analytics including:

- General or daily sales reports and returns reporting
- Page views, unique visitors and sales on sales pages for split testing product offerings
- Tracking channels to test various advertising campaigns
- Detailed transaction reports
- Affiliate tracking with percentage of sales made
- Keyword statistics where merchants can track keywords used to arrive at sales page
- Visitor tracking analysis on visitors versus buyers ration on specific keywords and keyword phrases.
In addition, Click2Sell offers user guides, FAQs and has a help desk to lend assistance in any area of setup and account maintenance. There is also a forum for user interaction and questions.

Click2Sell is a new program, and some products haven't gotten a conversion rate as of yet. However, for a new site, this is all that Clickbank offers with some extra features that makes selling and affiliate marketing even easier.