List Building Explained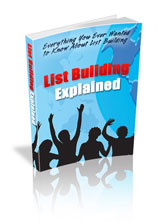 Name: List Building Explained
Author: Joseph Ratliff
Ebook URL: http://josephratliff.name/wp-content/uploads/2008/01/list-building-explained.pdf
Version: First Edition
Overview: This is a guide that will get you started on creating e-mail lists that attract customers and keep them coming back.
This PDF gives secrets that only the experts have access to. Learn all the techniques of building successful lists without wasting your time or money.
Even the newest marketers can make money and create a list of over thousands of people. A few things you will learn from this book is how to,
*build your list quickly and efficiently
*use revolutionary ways to design your site
*the number one strategy for attracting paying customers
*avoid potentially fatal mistakes
List Building can be confusing and without the proper knowledge, it can end in disaster. Make sure your reputation and your site are protected by learning all of the secrets of successful marketers.
With List Building Explained , you can turn your mailing list from 20-30 people, to 3,000 people without wasting any of your time or money.







Click Here to Return to Ebook Affiliate Tools