Think and Grow Rich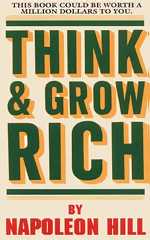 Author:Napoleon Hill
Company Name: www.naphill.org
Version:Second Edition
Overview:Think and Grow Rich is not just a book that teaches success, it is a life lesson which shows how to attain all that you want. Furthermore, it allows the reader to reach their goal, no matter what it is.

Unlike other get rich quick books, Napoleon Hill gets you to understands the mind of the financially successful. The keys to success are not in plain view, but have to be discovered.
This powerful book has developed many concepts that most books have forgotten,
*burning desire
*specialized knowledge
*masterminding and mentoring
These concepts help the reader to stay focused and reach the success they want, no matter how it is defined.
Quotes:
"It's the classic of all classics."
- - New York Times bestseller
"Think and Grow Rich! is timeless and will continue to change lives. It's powerful in turning people's dreams and passions into life-long realities. It did mine and still remains my number one reference book."
- - professional speaker, author, sales/marketing & positive change solution provider
"This is the best single book on personal success ever written; it made me a millionaire—-starting from nothing."
- - respected author Think And Grow Rich is a highly suggested read for anyone who is looking to achieve any goals in their lifetime.







Click Here to Return to Ebook Affiliate Tools